Virtual Reality, WebVR, Mozilla
Hubs:Live - The Future Of Live
Content In Virtual Reality
︎ Mozilla + CIID | Industry Project

Project: Hubs:Live
Role: Interaction Designer
Team: Alex Penman

Hubs:Live is one of six concepts our studio developed during the collaboration with Mozilla. It envisions a way to bring fan communities of live streamers together through the social VR platform Hubs by Mozilla. The studio was given a brief from the WebVR team at Mozilla to look into the future of social experiences in VR. The whole studio explored different aspects of social interactions in different realities and each team of two presented one potential future scenario how Hubs by Mozilla might evolve further.

The brief
The objective for each team was to give concrete ideas for near-term capabilities to develop, as well as to spark conversation about what kinds of experiences the platform could enable with partnerships, what sustainable revenue streams could be developed - and what can catalyze growth of an open 3Dweb ecosystem.
Special thanks to our project leads: Joshua Walton & Gitte Jonsdatter
*Update:
3 months after presenting Hubs:Live to the Mozilla team, support for Twitch and other HLS video streams has been implemented in Hubs.
Details on
Mozilla's Github page.
The Concept

Hubs:Live - The Future of Live Content Online
The video game community is one of the original supporters of live streaming and platforms like Twitch have pushed it in new directions. Twitch has more than 15 million daily active users and between 2.2 and 3.2 million monthly users. Taking into consideration the users on other platforms such as Facebook and YouTube as well, the number of people accessing live streams is huge.
Most content creators on the web use live-streaming and sell physical merchandise to further monetize their careers and build their personal brand. Hubs:Live uses this existing model and expands off of it.
Streamers will be given the tools to design their own virtual room
in Mozilla Hubs. Fans can then buy physical merchandise that come with access codes into the streamers' Hubs rooms. The merchandise will serve as collectible items in the physical world and also appear on their VR avatars when joining the rooms. Once in VR, viewers can communicate with each other more directly while not missing out on the current interactions of streaming platforms such as chat and donations.
Experience In Detail (Adoption Stage)
For a content creator:
By using Spoke create your own room in Hubs:Live and connect your stream from your desired platform into it.
Distribute a series of collectables, like patches or stickers, which will work as a ticket to your Hubs:Live room.
Begin streaming and invite your fans to join the experience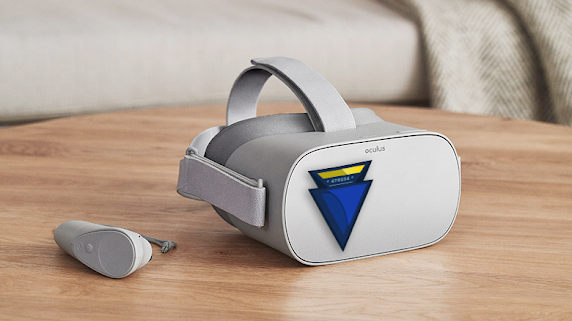 For a viewer:
Buy, win, or receive a physical object with access to your favorite streamer's Hubs:Live room.
Enter your code when visiting Hubs platform to join the experience.
Don't forget to like, comment, and subscribe!

Experience prototype (built in Spoke)
Concept Roadmap
NOW
The near-term solution involves incorporating live videos into Hubs and working directly with a select group of streamers to get the experience for them created. This would involve tasks such as helping model rooms in Spoke, advising on how to interact with viewers in VR, and curating physical merchandise to sell. Using physical objects as entry into the room is crucial at this stage of development. Creating products for the "superfans" to buy that come with codes to enter the room will gather a dedicated group of viewers to be the first people to interact with Hubs:Live.
The initial rollout is a critical point
, especially with emerging VR technologies where people can already be skeptical, so working with these "superfans," instead of the entirety of streaming viewers, gives Mozilla a chance to develop with community feedback and create the support needed to expand.
FUTURE
Looking farther in the future, we envision Hubs:Live becoming its own product from Mozilla and expanding into new platforms. As the user base grows, the general public should be able to create their own rooms and stream within them. We also imagine people creating their own "unofficial" rooms in Spoke where they can watch their favorite streamers. Mozilla would need to come up with new ways for streamers to keep their rooms engaging so their fans still buy access to the "official" rooms even when these new crowd-sourced rooms open up. Additionally, as the platforms grows, there needs to be some security in place that prevents the spreading of unauthorized access to paid rooms. The use of user profiles or two-factor authentication could be ways to address this issue.
DREAM SCENARIO
Even farther down the line with the success of Hubs:Live, we see it becoming fully integrated in media platforms and
working as an extended chat room.
The prototype of Hubs:Live
Value For Mozilla And The Open-Web
- By building an open-
source
set of tools for the streaming community in VR, Mozilla can be the bridge between existing platforms and create a variety of values.
- Integrating existing communities, not building a new events platform: This allows Mozilla to build up a community in Hubs without starting from the ground up.
- Creating an ecosystem for streamers to grow their community: By incorporating other streaming sites and giving creators the tools to design their own experience, communities can expand and grow without locking themselves into one platform.
- An entry point into the future of entertainment: This gives Mozilla a foot in the door when it comes to new technologies and entertainment.
Alex Penman
Mantas Lilis

︎ mantas@swallowtwice.com